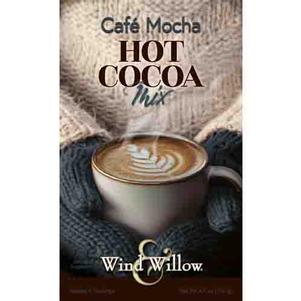 Wind & Willow Café Mocha Hot Cocoa Mix
You will love the balance of this rich and decadent cocoa that allows us to enjoy 2 of our favorite flavors in one warm and cozy mug;  coffee and chocolate!  The mix is also dairy-free so you can combine it with milk or choose your favorite plant-based milk.  A little barista art on top is always a nice touch but you'll soon be closing your eyes anyway as you take a sip and relax into murmurs of mmmmmmmmm . . . 
Ingredients: cane sugar, powdered cane sugar, dextrose, cocoa, coffee powder, natural flavors.
Net Wt. 4.6 oz.