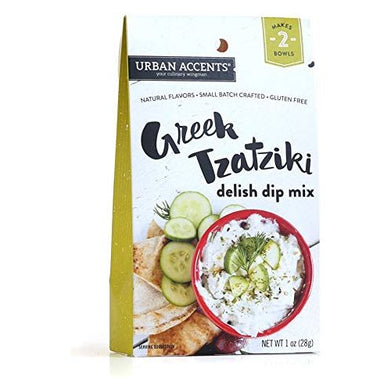 Urban Accents Greek Tzatziki Delish Dip Mix
Delish Greek dip mix that is easy to make using Greek yogurt. Classic Greek style blend of dill and parsley with a savory kick of garlic and black pepper.

                                   Small Batch Crafter          Gluten Free
Ingredients: Dehydrated Garlic, Sea Salt, Dehydrated Onion, Dill Weed, Corn Starch, Chives, Black Pepper, Parsley, Ground Mustard, Dehydrated Lemon Peel, Ground Ginger, Dill Weed Oil, and Lemon Oil.
Allergens: milk, mustard
Net wt. 1 oz.