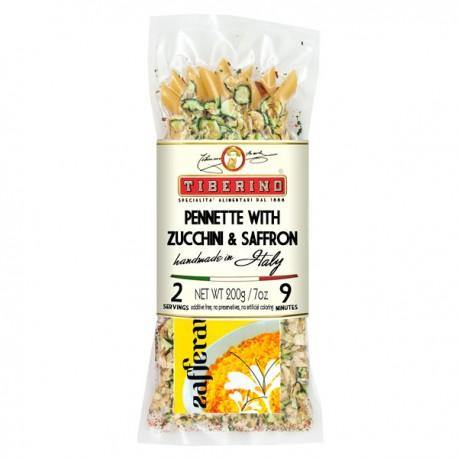 Tiberino Italian One Pot Pennette "Positano" Zucchini & Saffron
Tasty and easy to make Italian pasta. 
To Cook:  Bring 3 and 1/4 C water and 4 or more tbsp oil to a boil in large non-stick skillet or pan. Add the contents of the package and stir over medium heat for 1 minute. Cover and cook for 12 minutes or until most of the water has absorbed. Stir spontaneously at convenience during cooking. Season to taste, add 1 or 2 tbsp warm water before serving with olive oil for drizzling. Suggestions: Add 1/2 glass of wine during cooking and add 6 minced shrimps before serving.
Vegan. 100% Natural, GMO Free
Ingredients: pasta (durum wheat semolina, water 12.5%) 89%, saffron (packed separately 12.5 g), zucchini 5% onion, broth (sea-salt, onion, leek porcini mushrooms (boletus edulis and its group), carrot, extravirgin olive oil, leek parsely, ground celery seeds, olive extract, garlic), parsley.

Allergies:Prepared in a facility where wheat, barley, almonds, soybeans, hazelnut, tuna, pine nuts, coconuts and eggs are used.