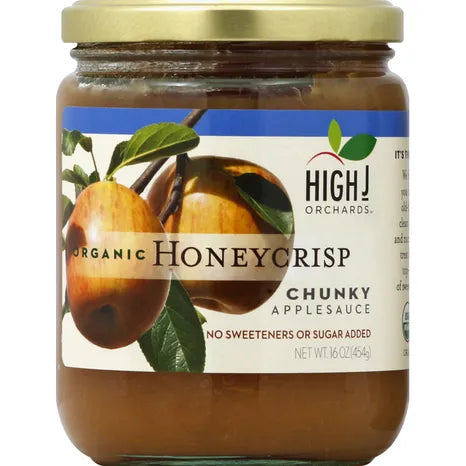 High J Orchards Organic Honeycrisp Chunky Applesauce
High J Orchards' Organic Honeycrisp Applesauce is also thick and delicious with a chunky texture and is surprisingly sweet without any sugar or sweeteners added. The Fuji apple, a low acid apple variety, offers a naturally sweeter tasting applesauce than the Honeycrisp. Each applesauce offers unequaled taste and texture guaranteed to delight your palette.
Made from the most flavorful varietal apples grown and harvested on family orchards in central Washington's Lake Chelan Valley.
                    Certified Organic          Certified Non-GMO       Certified Gluten Free
Ingredients: Organic Honeycrisp apples, organic lemon juice, organic cinnamon, organic nutmeg, salt
Net WT. 16 oz.