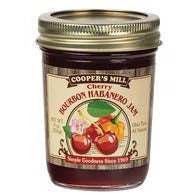 Cooper's Mill Cherry Bourbon Habanero Jam
Experience the simple goodness of Cooper's Mill! Our delicious products are made in Bucyrus, Ohio in small batches so that the best flavor and consistency is obtained every time. We never use artificial colors, sweeteners or preservatives. Only simple, natural ingredients go into every jar.
Serving suggestion: spread simple crackers with goat cheese and top with jam for a tasty and easy appetizer
        No High Fructose Corn Syrup       Gluten Free       No Preservatives
Ingredients: Sugar,  cherries, water, white vinegar, bourbon extract, pectin, habanero mash
Net Wt. 9 oz.